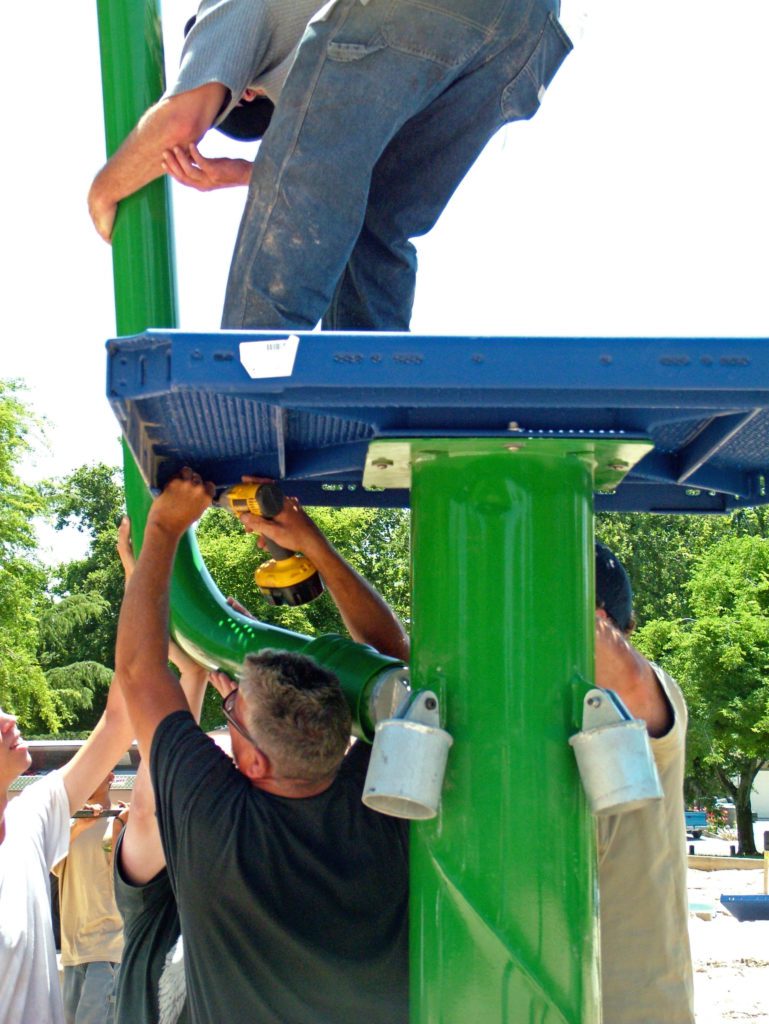 Community builds are when a group of people from the same city, neighborhood, division or development. come together to install a playground or recreational equipment. When volunteers of all walks of life come together to enhance their community, something special happens. Connections are built as quickly as the playground. Having a community built playground gives the members a feeling of pride and ownership within their neighborhood. These volunteers help assist schools and communities to save on installation costs for new and better playgrounds.
American Playground Company strives to make a community build easy for all volunteers. We will work with your team of volunteers all throughout the process, from initial consultation, to community goals, to safe assembly and maintenance. Overall community involvement can make it easier to raise funds for the installation project and to build support for new or renovated playgrounds.
During a community build, American Playground Company will send one crew member to assist at a small cost. This consultant will be experienced and certified in the safety, functionality and assembly of all parts being installed. While we are there for guidance and support, we do not supply equipment, concrete or surfacing. All parts of the playground and structures will be able to be put together with hand tools.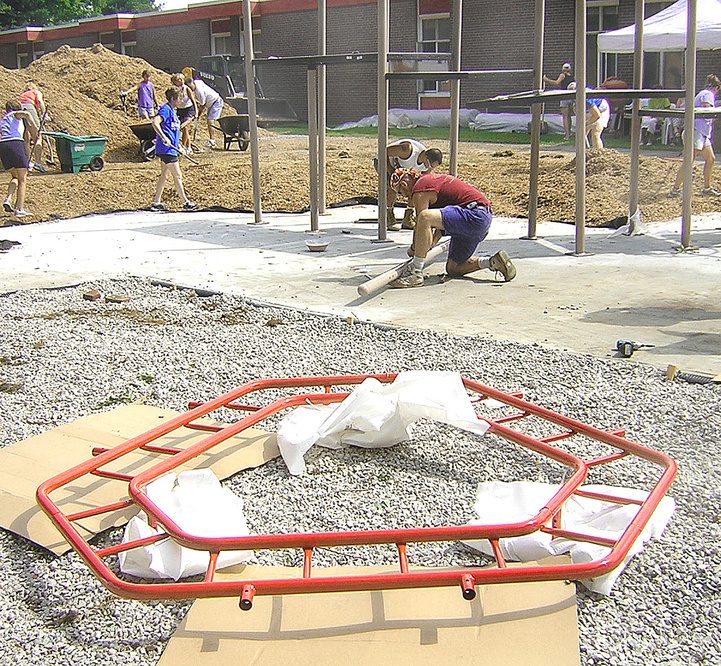 It is important to keep in mind that the digging and building process can be dangerous and may not be suited for all ages—especially in severe heat or cold weather conditioner. While we build year-round, small children, seniors and those with health ailments should take caution when participating in a community build. American Playground Company's playground consultant will be there to assist with any parts of the build in order to ensure that the playground is assembled safely and correctly within the agreed upon time frame.
At American Playground Company, safety is always our main concern. Having a safe build and structure is very important in all installations, but especially in a community build when the installers are not experienced and trained in a playground installation. Items and equipment may be heavy, parts need to be adequately secured and all components must meet the standard of care safety compliance. American Playground Company has a crew of CPSI certified inspectors who will ensure any installation is safe and up to code. Standard playground installations require a safety audit and inspection in order to establish the playgrounds safety checklist. If you are planning a community build, be sure to talk with a consultant about audits and inspections.
---
FAQ
How much money can be saved with a community build playground?
Volunteer-lead community builds can will cost less than a typical installation, and are now accepted by many equipment manufacturers.
How many volunteers are needed for a community build?
The number of volunteers will depend on the size, design and scope of the playground. We will start by selecting your budget, and from there we can determine the size and design so you know ahead of time how many volunteers are needed. The more volunteers, the better!
What tools are needed for a community build?
For most builds, only hand tools are needed. These tools can consist of impacts, wrenches, hand diggers, screwdrivers, hammers, shovels and, of course, your hands!
What happens if it rains on the day of the community build?
Typically, builds will happen despite weather changes. Precautions will be taken for extreme cases of lighting, wind, snow and heat.
---
Community builds can be used to install playgrounds for schools, parks and recreational facilities. American Playground Company is proud to work with communities to assist in their volunteer builds.
To learn more about community builds, contact us today!
American Playground Company's playgrounds, site amenities, shelters and more can be found throughout the Midwest. Our service areas include Sioux Falls, South Dakota; Rochester, Minnesota; Kansas City and Wichita, Kansas; Omaha, Lincoln and Grand Island Nebraska; Des Moines, Sioux City and Iowa City, Iowa.