American Playground Company Renovates Landscaping for Greystone Apartments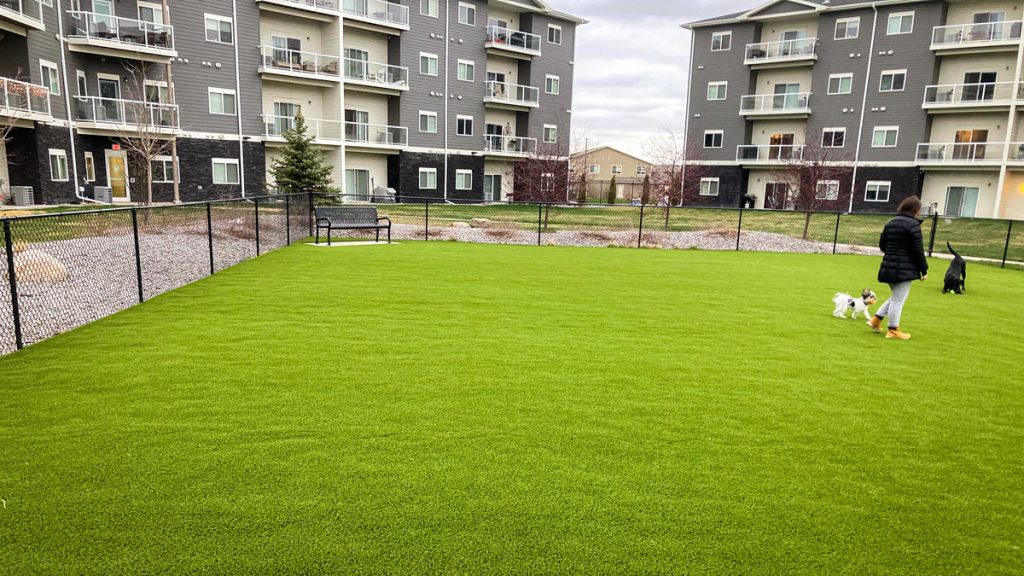 American Playground Company is proud to announce the completion of a landscaping project for Greystone Apartments in Sioux Falls, SD. "The area we serviced was designated for residents," says commercial playground consultant Chris Stange. "Originally, it was all grass, but thanks to time and standing water, it had become 75% mud—which was being tracked into the building daily." Renovating the area would help improve appearance and upkeep, so Greystone placed a call to APC's landscaping experts in Sioux Falls.
In starting off, the team removed an enormous amount of dirt and grass, replacing it with drainage rock—so that liquids drain through the surface rather than accumulate on top of it. "We removed approximately 160,000 pounds [80 tons] of dirt and reinstalled an equal amount of stone," says Stange. Once the stone had been installed, the team covered it with a layer of artificial turf. Having serviced playgrounds and dog parks for several decades, APC's landscaping experts knew artificial turf would be ideal for this project. According to Stange, it can be used in almost all landscape areas.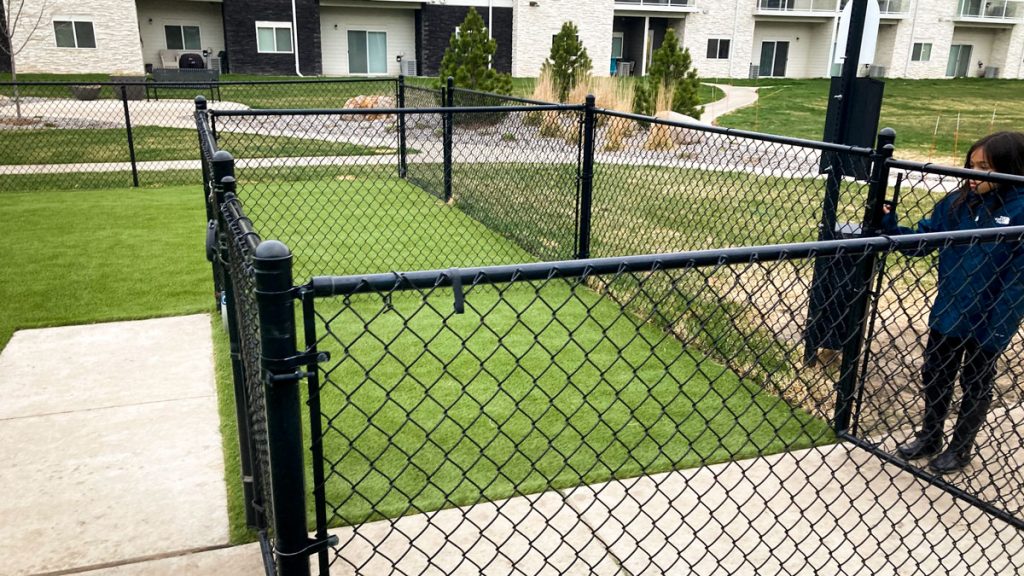 American Playground Company takes pride in providing smooth, easygoing collaboration with customers, and this job for Greystone Apartments was no exception. Stange met with the client to go over design layouts, discuss types of turf and drainage, and work out an installation plan. A proposal was finished in approximately two weeks, and "from the time of the first phone call to the acceptance of the proposal was about three months. We completed the project about a month after acceptance."
The once-muddy part of Greystone Apartments' property in Sioux Falls, SD has now been transformed into a recreational area beloved by its owners and tenants. According to Chris Stange, "The apartment's owners were so happy with the results that they plan to do 3 more landscaping projects in the next 3 years. I also spoke with a few tenants, who similarly like the area's improved appearance. They also commented how they no longer have to clean their dogs' paws every time they visit the area."