Playgrounds are an integral part of a child's development. With a proper play environment, children will grow up with a creative imagination. Children are also much happier when imaginative play can be established early on in their lives. A well-structured environment will promote development and enjoyment for many years. Location, children, and safety need to be at the foundation of any playground design discussion.
These are American Playground Company's 9 steps of playground design.
Step 1. Selecting a Location
Location is the first key element in designing a play space. Without a location you cannot have a play space. Some things to consider when designing a play space for your playground equipment is to review the area and determine what items can be included in the play space design.
Many people overlook incorporating the beauty of nature into their design. Instead of working against nature… Embrace it!
Trees and bushes can add social, physical and dramatic play into a play space. Both can provide shade in the heat of summer and a relaxing place to cool off. Kids develop sensory skills by feeling the texture of the bark and seeing the different visual aspects of the leaves and branches. Trees are used for swinging or climbing; and both provide opportunities for interactive games like hide and seek, freeze tag and more!
Water tends to be a recurring topic of discussion with playground design. The reason is because many park settings are positioned near water sources since it is already city land that is not likely to be developed. People also commonly visit bodies of water and lakes; therefore, playgrounds are commonly around water. Water has so many physical and emotional features. Water is a strong element, but we recommend having a barrier from all types of water sources to prevent any water related accidents or drownings.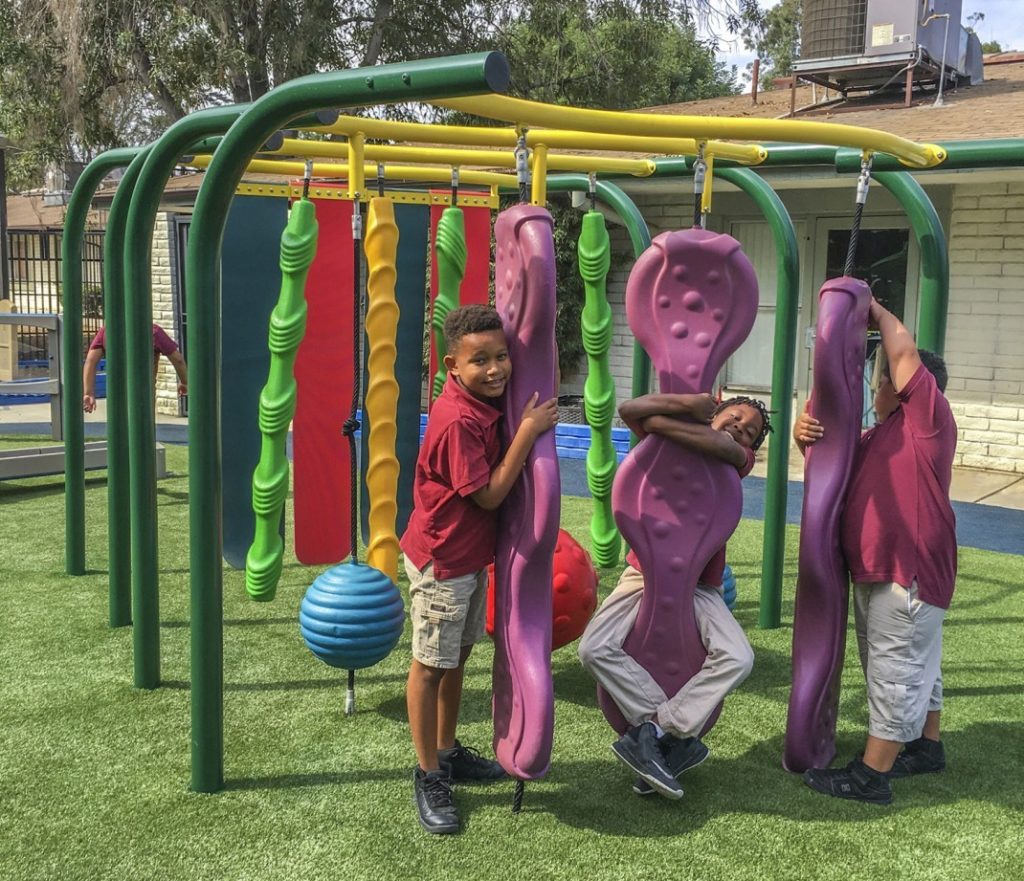 Paths leading to and within the location need to meet the 2010 ADA Standards for Accessible Design. Having a variety of diverse paths around the playground will also allow room to run and or bike around for extra activities and travel.
Rock and logs can be placed strategically along paths to give unique elements into any play area while keeping accessibility at the forefront for all to utilize.
Look for locations with lower amounts of grade slopes as ADA ramps are only allowed to have certain amounts of slope over run before a landing platform is needed. This could lead to additional work for creating accessible paths in order to be compliant with the 2010 ADA Standards of Accessibility.
On the other hand, the length of a path is also important to consider in design. For example, due to a steep slope of a path, this would need to have many landing platforms for wheelchair access. This could lead to a need for a much longer path; which may deter many users from accessing the playground area. A pertinent design consideration is a parent or guardian with a stroller or a grandparent with bad knees taking their grandchild to a playground. If access is not perceived easy, more than likely users will be less likely to utilize the area and equipment.
Playground Real Estate
Another key element of playground design is the real estate of the playground. Will you, the owner of the playground, choose to build on land that was purchased, donated or rented?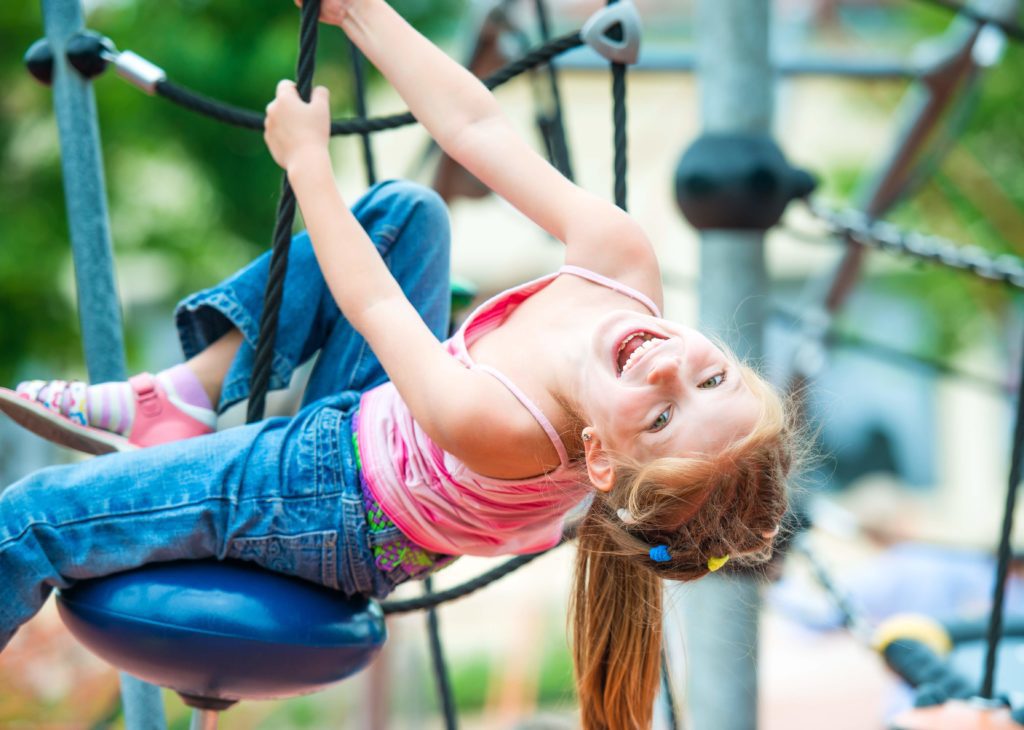 Rented Land
If you choose to rent, how long will the lease be and what about the equipment you have invested when that lease is up? The last thing you want to do is invest a large sum of money and time on the equipment and not be able to renew the lease.
Land Donated Due to Flooding
If the land is flood prone, the consideration of continual cost of repair and updates will impact the quality and design of the playground. For example, we have a client that has a playground which floods three times a year. Because of this they chose not to invest much into surfacing as it will be ruined. Since they chose a less expensive and replaceable surfacing option, the proper fall attenuation needed per the standards are not met. Another additional cost is that when flooding occurs many of the equipment pieces may be ruined and/or need to be cleaned from all the contaminated water.
Just because the land is cheap does not make the decision OK. These decisions could cost you too many headaches and additional money down the road. If you are stuck in a lower laying area that is prone to flooding, you can consider building up the area of where the play structure will sit to reduce the cost of ruined equipment. It's much less expensive to do some grading and seeding than replacing the playground surfacing and equipment.
Whether this ground is purchased, rented or donated consider all the facts and site location for reoccurring cost.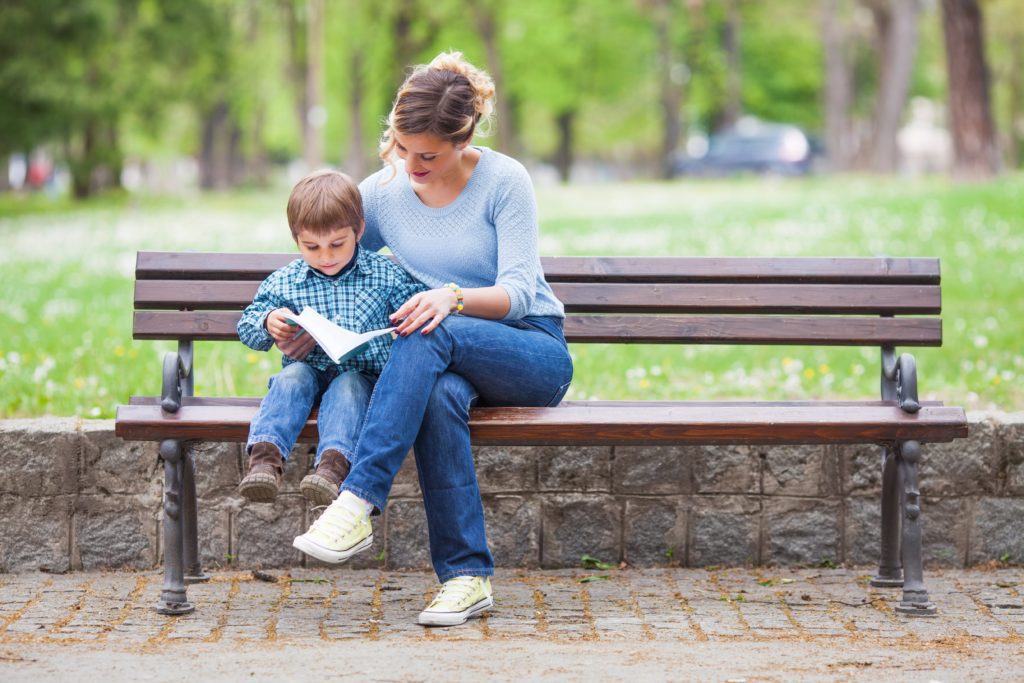 Playground Insurance
Cost of insurance can be a major role in selecting a site location. When thinking of insurance consider the cost of all insurable liabilities. Although one site may be less expensive than another, crime and vandalism may play a factor in your insurance rates. It may be a better option to pay more for land with a less expensive insurance rate for the area. For any insurance related questions, we will refer you to your current insurance agent.
Playground Saturation
Playground saturation is another huge factor when selecting a location of a new playground. A key consideration is to also know the distance and number of other playgrounds already in the area. If a playground is a key element for your business (i.e. daycare center, school, church, etc.), the location selected should be close and convenient for your target market. Look for areas of higher travel routes to and from schools and work routes. Also consider areas that have a secure location for the safety of the equipment and children.
Step 2. All About Safety
All commercial playgrounds should comply with ASTM-F1487 and CPSC 325. These are the standards for all commercial playgrounds to follow.
Design your play space with absolute safety in mind. Every year over 200,000 children visit the emergency room due to playground injuries. This is just the number taken to the emergency room; there is a total estimate of over 500,000 playground injuries every year all together. With such a high number of injuries, safety is a required topic in all playground design.
How large of a space do you have for your playground area? Playgrounds are required to have a six-foot use zone outside of any play equipment at a minimum.
Some areas will need more than this six-foot use zone. For example, swings that have an eight-foot-high beam off the surfacing will require a use zone of sixteen feet. This is measured in either direction of in front and behind from the center of a belt swing seat.
This measurement will be different in swings with different in beam heights and different types of swings and seats. I would contact your local manufacturer or playground representative for more information based on the chosen swing.
Moving equipment is more likely to create injuries if placed too close together or in a non-ideal location.
For example, if you have a swing in between playgrounds kids are more likely to get struck by a moving swing. Swings should be placed on the outer edges of a playground. This moves them out of a main traffic zone to eliminate kids from running in front of them.
As shared previously, water can be fun and exciting in any play space, but also if not utilized appropriately, water can be dangerous. To avoid accidental drowning and other injuries, playground designs typically shy away from areas of water. If a playground location is near a water source a barrier is strongly recommended.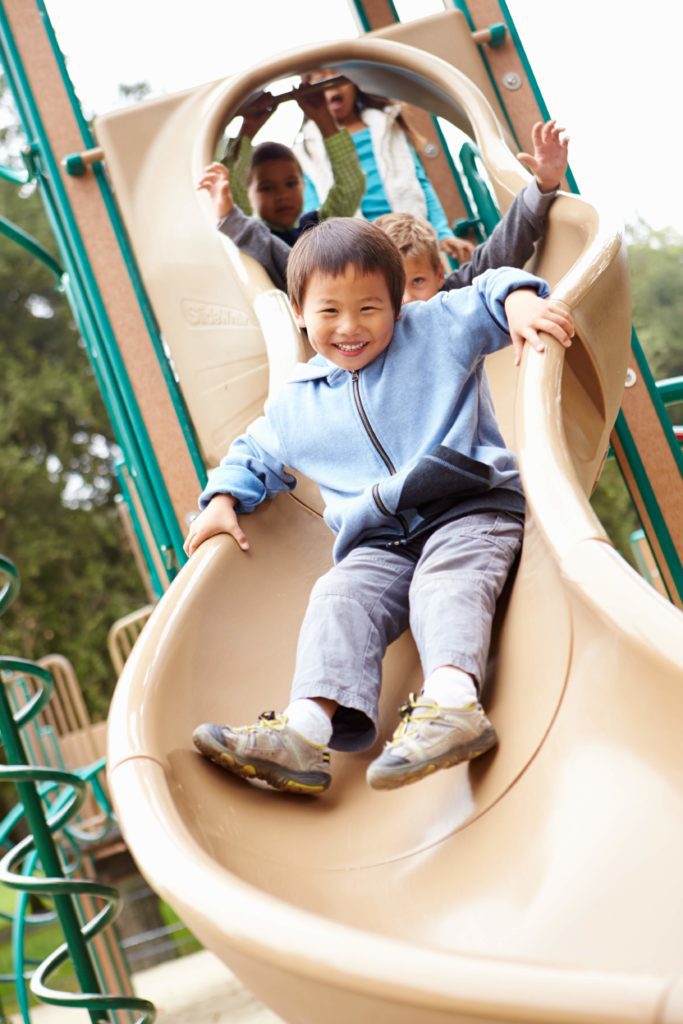 Sightlines are an important part of safety. Playgrounds should be built with fairly clear sightlines so the parent or care giver can keep track of a child/children while maneuvering through obstacles around the playground environment.
Any fencing, if installed should follow ASTM-F2049 standards. Many kids have been able to escape a playground and ended up being hit or ran over by cars in a nearby street or parking lot. Playgrounds are also required to have some sort of barrier to prevent cars from accessing a playground. Many facilities our experts come across have a playground on the edge of parking lot. If a car were able to drive into a playground, forget the damage to equipment; many kids could be seriously injured!
Surfacing under and around playground equipment can be one of the more costly items when it comes to safety. But surfacing is one of the most important factors when it comes to trips and falls in the ability to protect against life threatening injuries. Especially with the knowledge that every year, an estimated 500,000 children are injured on playgrounds.
Many of these injuries are due to trips and falls into playground equipment. Majority of injuries from falls are due to not having a proper surfacing system to prevent an injury.
If this is a loose fill option it may be due to not enough maintenance. If a child was to fall on their head or neck it could be a life-threatening injury.
Since surfacing is such a large component in a playground, this topic will be discussed in many topics of this article.
No parent wants to have a child injured. Any skilled designer has the responsibility of creating a playground with challenges, but as not to be boring and non-engaging. If a design is too safe and boring, it will likely only get played on for a short period of time and rarely visited after that. Design your playground to engage the user and keep them coming back with fun play elements.
Step 3. Playground Surfacing
Unitary surfacing options are normally the best options for safety and maintenance, if the budget allows. These options normally come in much larger cost and lower maintenance. Unitary surfacing options can include:
Pour in Place
Bonded Rubber
Rubber Tiles
Artificial Turf
These options have a different layer of thickness for different fall heights. They will all have some sort of maintenance as time goes on. These will also all have different amounts of absorption for wet weather.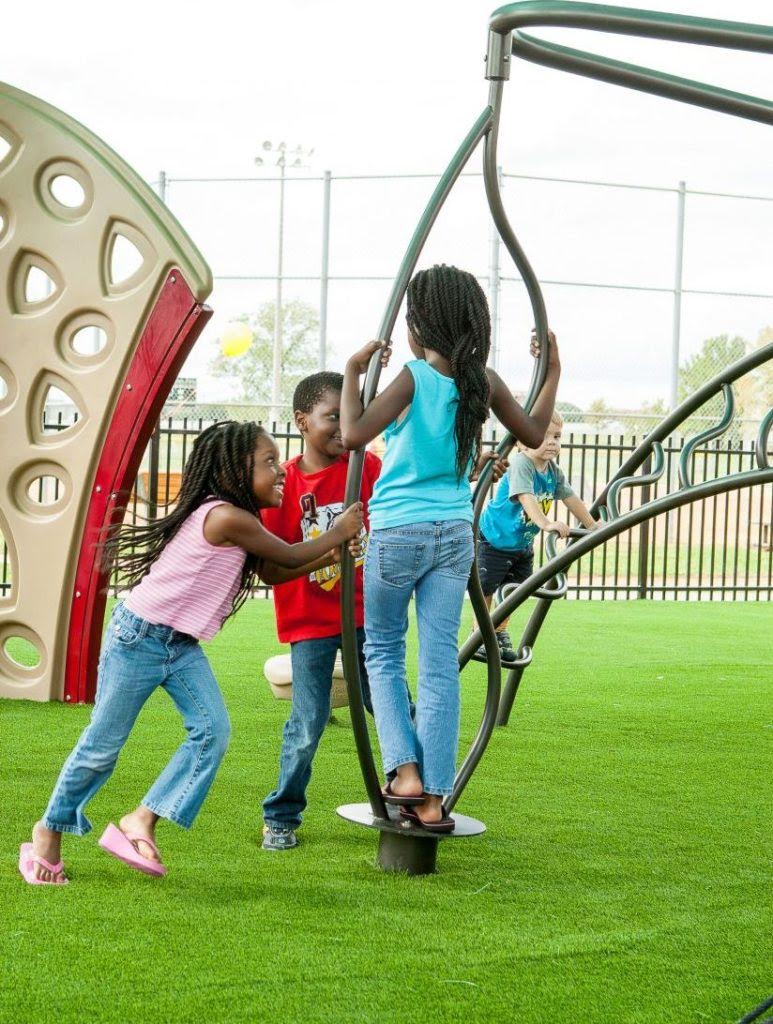 Loose fill options are much cheaper and often displaced, which require more periodic maintenance programs. After displacement happens there is a much higher chance of not having enough surfacing for fall impact attenuation. Many loose fill options do not have the fall height that unitary surfacing options have. Loose fill materials when displaced can cause trips and falls. Any loose fill material should include testing for ASTM f1292 certified.Some examples of loose fill surfacing include:
Engineered Wood Fiber (commonly known as EWF)
Rubber mulch
Pea rock (I personally do not recommend this as it packs down like concrete over time)
Sand
Wood mulch that is not CCA treated
Wood Chips
Surfacing options that should never be used are:
Grass
Dirt
Concrete
Asphalt
Carpet
CCA treated wood mulch
These are never an acceptable play surface as they have no impact attenuation qualities and kids have no fall protection.
I highly recommend talking to your local playground installer to ask what depths are needed for each of the following surfacing. Many of these surfacing's have a different depth and different fall height they will absorb. For example:
Sand that is estimated to be 9″ deep will only absorb a 4' fall height.
Pea gravel that is estimated at 9" deep will only absorb a 5' fall height
Wood mulch that is estimated at 9″ deep will only absorb a 7' fall height
Wood chips that are estimated at 9″ deep will absorb a 10' fall height
Rubber mulch only needs to be 6" deep to absorb a 10' fall height
These are estimated and could actually absorb more or less. The only way to determine this level of fall protection is to hire a person that has a surfacing testing device. These measurements are also changing as debris and materials change. For example, pea rock will break down into a concrete dust over time and will get as hard as a concrete pad.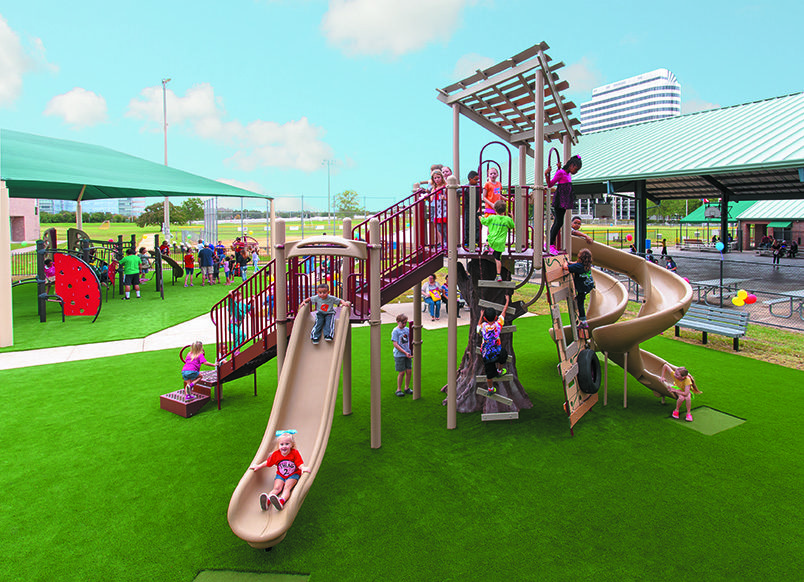 With the need for all commercial playgrounds to meet the 2010 ADA Standards for Accessible Design, some excellent examples of surfacing systems that meet this standard are:
All unitary surfacing systems
Engineered Wood Fiber, which is a loose fill option for any budget that won't allow unitary surfacing
Meeting this requirement will allow anybody with a disability, including those in a wheelchair, an accessible route.
Step 4. Playground Equipment
What type of equipment are you using and what type of features are you looking to install?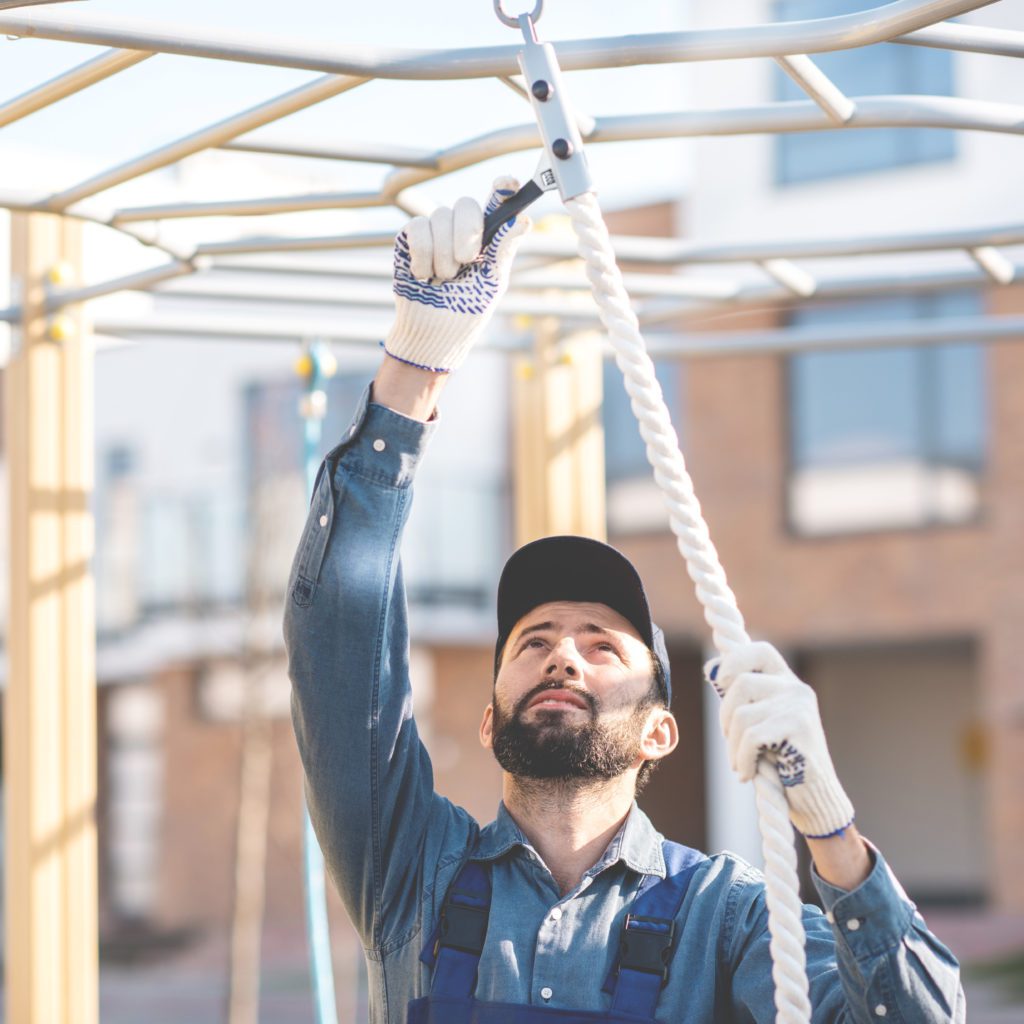 Installing a variety of equipment and products is the best option. Don't just install one large structure, which will then cause crowding and boredom. Select and install many pieces to attract the users and compels a want to play over and over again.
If designing a playground for older users, we recommend equipment for upper body, sliding, climbing and hiding. We also recommend many swings as they are one of the most commonly used items in a playground. But it is also important to note swings also require the greatest use zone, which will then lead to increase cost in additional surfacing.
If the decision is to move forward with swings, since they are versatile for any age and any ability:

We recommend a bay (two bucket seats) for toddlers

A bay of belt seats for the older users

The last bay can be some sort of inclusive seats that allows a child with disabilities to swing while being safe.

Inclusive seats are fully molded with a back and bottom with an added restraint to keep a child from falling out.
After doing your research and knowing how many users and ages of users, this will help you determine the estimated amount of equipment and different age appropriate pieces needed.
Common playground items for a well-rounded playground setting
Slides
Stairs
Tunnels
monkey bars or any overhead climber
activity play panels (above ground at ground level)
ADA access platforms or ADA ramps
merry go round or other seated spinners
Climbers
Swings
Equipment that should never be installed in a playground
Trampolines
Swinging gates
Giant Stride
Climbing ropes that are not attached at both ends and can be looped over on itself
Heavy metal swings
Multiple occupancy swings that are not IPEMA certified
Rope swings
Step 5. Traffic Amount and User Age
When designing a playground what are the ages and user traffic for the area?
As discussed in step 1, if you are in a highly dense area of young children, you will want to design your playground for the appropriate user age. Having a few different age structures will give you the safest and most well-rounded setup of playground equipment.
Playground equipment comes in four different age categories:
6-23 month
2-5 years old
5-12 years
2-12 years old
Playground structures in the 6 – 23 month category are for children that can only crawl or are starting to walk. These playgrounds will be more accessible for a child's parent to help and mostly contain all ground level activities. These activities are normally a maze of panels that a child can crawl through and the panels will have a variety of activity, like colors and shapes, to engage the user. This is where some interactive, noise making, and spinning items can be beneficial to a child's development.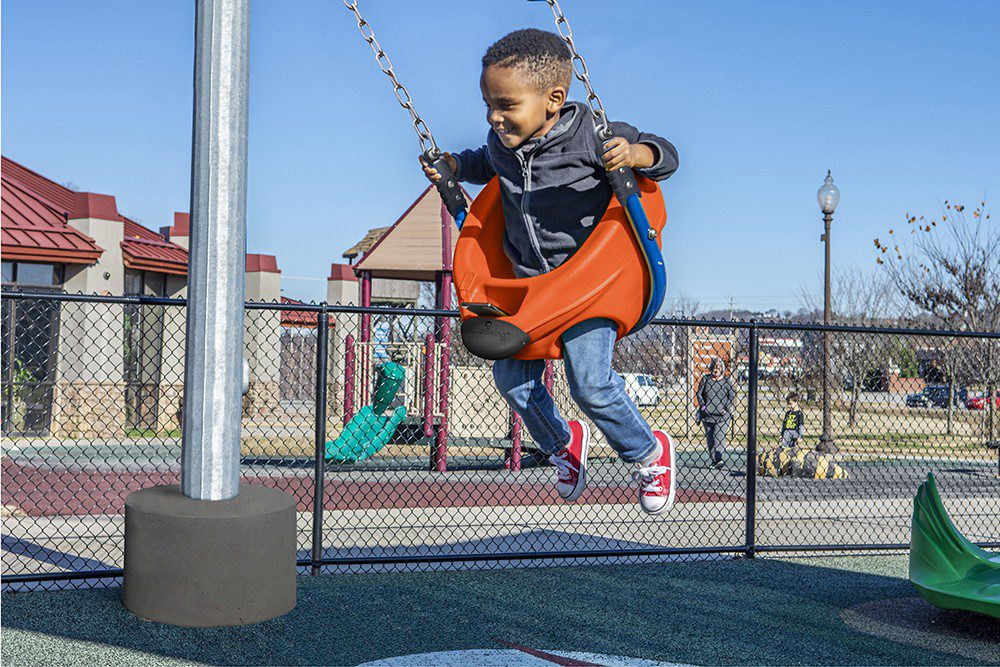 Children ages of 2 – 5 are beginning to be very mobile and love to play. These are typically more economical pieces of playground equipment as they are smaller in height and limited by a child's ability. If you think of the smallest child in which a 2 – 5 structure is built on, this is a child in the fifth percentile and two years old. A smaller child of this size is not going to be super stable and will have to work much harder to get up and down stairs and slides. They will not have any upper body strength, so certain types of climbers are not allowed for this age category. This category will also not have any sliding poles or upper body equipment. This playground design will incorporate more of a lower height design. These structures are popular for having small easily accessible climbers with lower decks, and a variety of crawl tunnels and slides.
The age group of 5 – 12 is the largest and most mobile group of kids and for this reason, our playground structures for 5 – 12-year-olds are the most popular. This will be the playground you see more often than not, and have many challenging items like monkey bars and other hand-over-hand items. This type of playground will have higher platforms and larger slides. Since children like to be challenged, our recommendation is to have some double or triple slides. This gives kids the chance to race each other and experience more of a friendly, social setting.
Finally, there are many benefits to having a structure for 2 – 12-year-olds. But remember there is always advantages and disadvantages to every decision.
Any playground that is rated for 2-12 is a playground that is safe for a 2-year-old child.
Grading is decided on the smallest age child, which would be a child 2 years old in the 5th percentile.
If you have many users that actually fall in the 5-12 category, building a structure for 2 – 12-year-olds will not be challenging for them and over time, they will less likely return to the structure.
Step 6. Budget Planning
Budgets can be difficult to figure out and there is never any set amount that a single thing will cost, since there are many determining factors. We recommend consulting a playground professional in your area to determine what type of budget is recommended for your space and location.
If you have a local playground contractor, an estimated cost for installation will be approximately 25 percent of the equipment cost. Once again, this is determined by the area you are in, locality of the installer and price of any equipment.
Consider if you find a lower cost installer, are they going to be certified and trained for the equipment they will be performing the work on? Are they going to do a good job or even do it properly?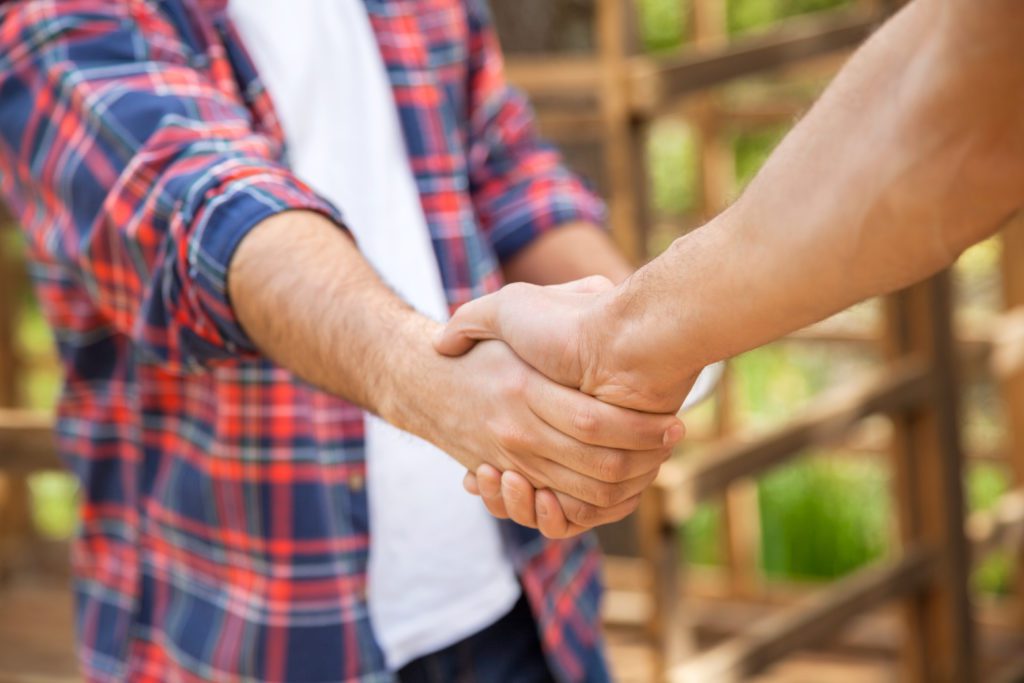 In the case of surfacing, the price can be very minimal for some surfacing while other types may be 200 percent of the cost of the playground equipment and installation. Surfacing is always a wild card when it comes to a playground budget.
American Playground Company would always recommend that you find a playground representative who can provide you with installation as well as sell you playground equipment.
Any installer should provide you documentation per manufacturer that they are trained in the installation of the equipment.
Ask to see their certifications. You will want them to be a Certified Playground Safety Inspector (CPSI) so they understand the rules and regulations of putting your playground equipment together properly.
Any installer that installs or modifies a piece of equipment has the responsibility to do an audit afterwards showing that they are compliant with the standards set forth. It is a good idea to get a third-party audit to make sure the installer is providing the correct info, instead of taking their word for it
Step 7. Maintenance
Playground equipment maintenance is important to consider during the design process, as there will always be upkeep needed within a playground and playground area. This could be defined in budgeting cost, insurance and liabilities as well as in this section of maintenance.
If you choose a loose fill surfacing you will have to have a periodic raking schedule.
A unitary surface product may not need as much regular maintenance. With a unitary surfacing it still may require recoating a rubber surfacing or adding fill into an artificial turf.
There will always be some cleaning and trash removal on a daily or weekly basis. This maintenance schedule will be determined on the number of users on a daily basis and the care given to the facilities and any changes in weather.
Consider the liability if you do not have a periodic maintenance schedule. If something breaks and a child gets hurt because there was no maintenance done, you will have an expense you will not want to incur.
Step 8. Playground Accessories
Playground site accessories are an important and often overlooked part of a well-kept and safe playground.
Summer time adds the element of hot weather while kids are running around playing. The children and caregivers will need a spot to relax and cool off and all ages will require some hydration.
A water station is a good recommendation for any public setting.
A place to be seated should always be in every park or playground design. Appropriate seating is helpful while relaxing or cooling off. Benches and tables are a suitable design option to assist in this need.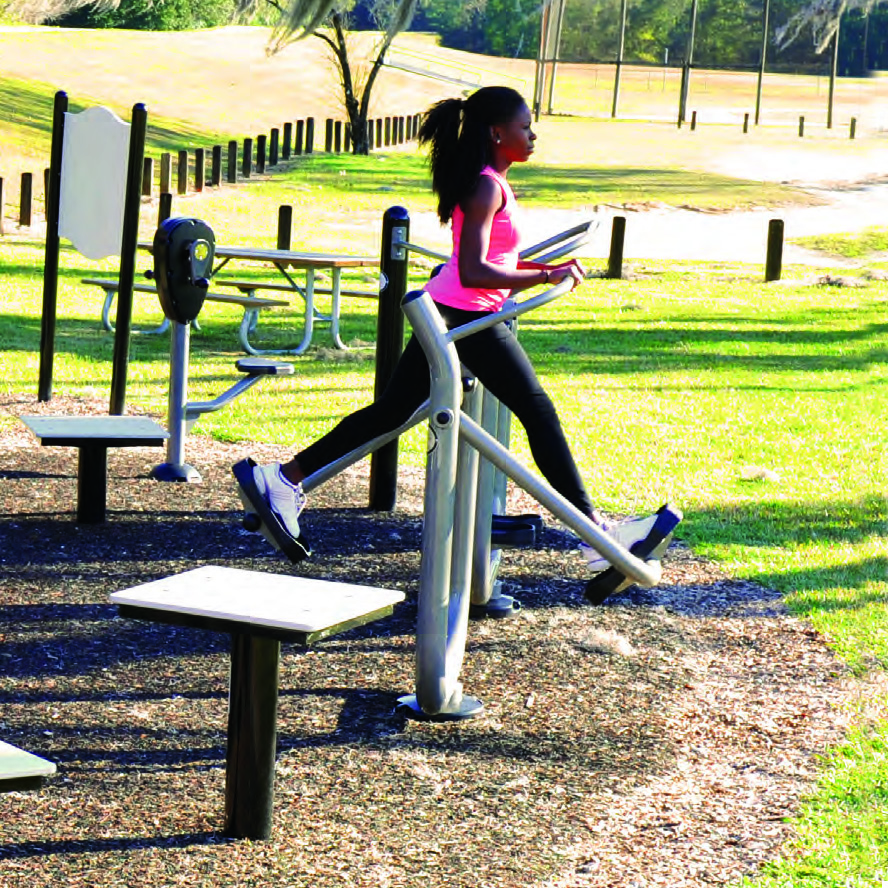 If you like to take care of your investment and encourage others to as well, we always recommend placing a trash receptacle nearby. If you do not have a trash receptacle nearby, more times than not your playground will be full of litter. In turn this will require more maintenance than just changing out a trash bag. Dirty trash is also a safety concern as somebody may get a bloody nose or change a baby's diaper.
Step 9. Inclusive Design
It is important to understand how your users will interpret and use the playground. Try to understand a child's perception and interpretations of the equipment. From a child's perspective, imagine a piece of equipment and how they believe that equipment should be used. Children will always discover new ways to play with different types of equipment. Slides, for example, are meant for children to slide down but very often you will see children challenging themselves to climb up. Try to think like a child and how they may use the equipment; in turn this will help you design creative and safe play equipment. If you really do not know your users, watch how they play and ask them their opinions. Kids will tell you what they want in a playground design.
Sensory play can be achieved in using the five senses.
Touch
Smell
Sight
Taste
Sound
Shapes and colors not only make a playground attractive, but also create a developmental skill for some children with disabilities. Give a child textures to touch and feel on and around the playground equipment.
Panels with engravings are great for texture. Adding sounds to an activity will utilize the sense of hearing.
Different surfacing options will provide various textures, visual colors, and even unique smells.
More than likely a design will not use "taste" in a playground setting, but a successful design will encourage children to be outdoors and enjoy the taste of the crisp air and refreshing feel of cold water from the foundation.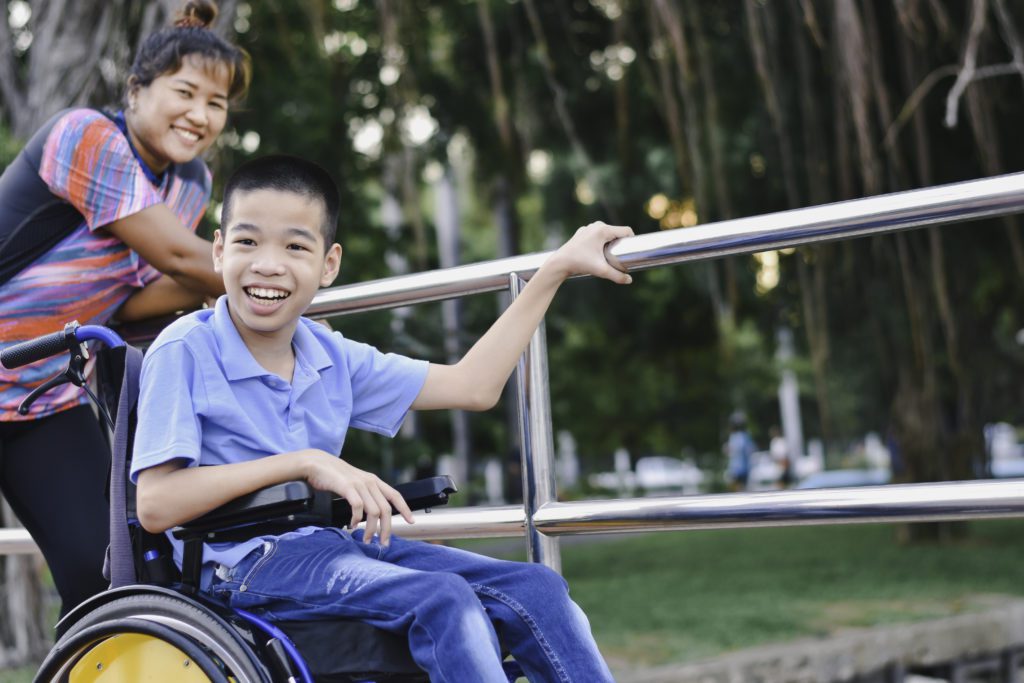 Social play is achieved when any child plays with another child. Children will often make friends and play together or even compete with each other. As stated before, the use of dual or triple slides encourages competitive play. A store front panel or equivalent encourages a child to pretend shop and/or serve other kids. Kids will learn the rules when shopping, like picking out groceries and then paying for them before leaving the store. If it is a restaurant, kids will also learn the social skills of ordering, being served, and then paying before leaving. All of this interactive play allows a child to follow a set of rules in play and even the understanding of being polite while playing with others. Social playing can create friendships and caring responsibilities.
Communication is a key consideration since a plethora of children at parks are all developmentally different and may have different ages. Some children can't talk while others can read chapter books. Some children may speak English while some speak other languages. Having panels and other items that can be dual purpose and will provide the opportunity to work with children of all ages and abilities.
Consider having a panel in another language or sign language symbols, which will promote healthy communitive play with others.
Expressive language is how a child communicates their wants and needs without speaking. Some children may not comprehend all the words another person uses. Comprehension often involves attention, listening and processing to be achieved
Physical differences are another key item since children who may be in a walker or wheelchair still have the need for play. American Playground Company encourages any public playground designer to think about having something inclusive for kids of all abilities to play on. Disabilities limit a child's ability to play on an equal level.
Social emotional skills are a child's management of emotions when playing with other children. Successful play is creating different play zones for different types of children. For an example, our lead salesman's eldest daughter is a social butterfly that wants to make friends with everybody and "Everybody is her best friend forever" as she says. His second oldest child also likes to play with other kids but she also needs her own time apart to recharge.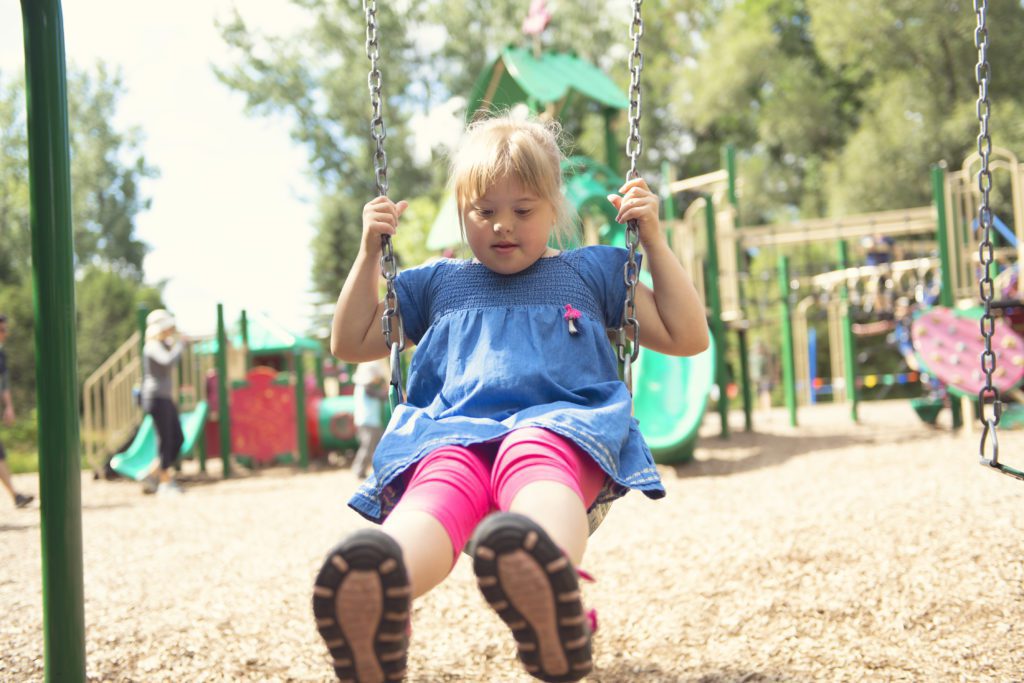 Kids with ADHD or other behavior disabilities often need their time away. Consider creating a sand pit off in the corner or a small space where these types of children can think or daydream. Create this place off to the side of the main activities so the child is still in the same area and yet to not feel completely isolated from other children.
Cognitive play is problem solving, imagination, outside of the box thinking while playing. Children pairing up to play games is a great demonstration of cognitive play. Did you play "I Spy" as a kid or with your own child. Getting them to seek out answers and working as a group is a great example of this activity.