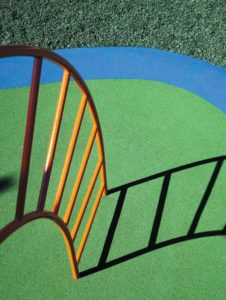 A great choice for accessibility and high traffic areas, our Poured in Place Rubber offers a huge variety of options for colorful and customized surfacing for projects and budgets of all sizes. Because it is poured onsite, you can creatively combine a variety of colors and patterns to create customized graphical play areas that include game markings like hopscotch or tic-tac-toe, graphics or logos that will provide visual interest and last for years.
A superior non-skid surface, our Poured in Place Rubber is soft, durable, and very low maintenance. Available in a variety of colors that can be mixed and matched.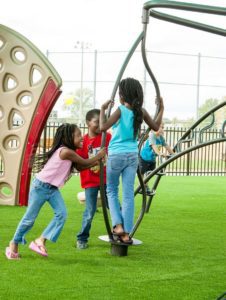 If your project requires a natural looking landscape but minus the hassle of watering and mowing, our Synthetic Play Turf is the perfect solution. Available in a variety of pile heights and face weights to meet the needs of any project, Synthetic Play Turf makes for a perfect, and resilient material that offers a cooler play surface, that drains water quickly and never requires expensive and time consuming mowing and watering. Avaialble in a variety of colors, it is an excellent choice for low-maintenance and ADA accessible playground surfacing.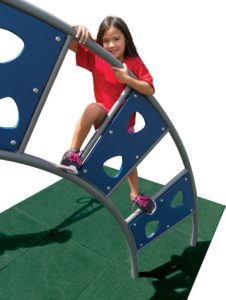 Our SurfaceMax Premium Tile Surfacing is a great option for a safe, soft surface material for indoor and outdoor applications. Available in a variety of thicknesses to ensure adequate impact attenuation for falls, the tiles are a durable, easy-care, option for playgrounds, playrooms, gyms and more. We offer interlocking and non-interlocking tiles to give you options that will suit your project for years to come. Rubber tiles are easy to maintain, replace and install and are available in a wide variety of colors. ADA accessible ramp tiles and custom edging options are also available.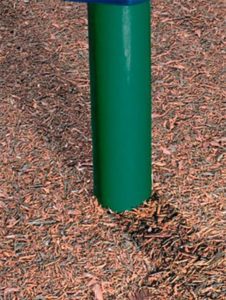 Bonded Rubber is an excellent option for smaller budget projects that require a soft, seamless surface. Visually the material looks like wood mulch, however it's made of clean, recycled, shredded rubber that's coated and mixed with a polyurethane binder that creates a unified and bonded surface that doesn't require refilling and maintenance like loose fill materials. Bonded Rubber can be poured in one step and is porous to allow water to flow through so there are never any puddles to impede playtime. A great looking, low maintenance material, Bonded Rubber is perfect for playgrounds, trails and landscaping areas.
Available in a variety of solid and blended colors.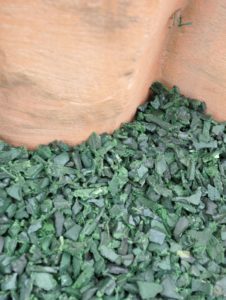 Colored, ground, recycled tire rubber in your choice of colors is what makes our SurfaceMax Loose Fill Shredded Rubber product a fun and safe playground surface material. Compared to natural wood fibers, the rubber will not decompose and provides excellent fall attenuation. The clean, non-toxic, ground rubber will not retain moisture, break down or blow away which makes it a great option for landscaping as well. Some routine refilling will be required to maintain proper depth levels.
Color options include teal, brown, blue, green and red.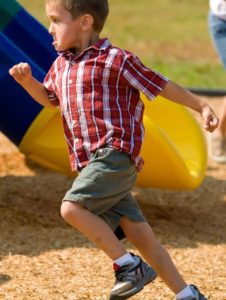 If you're looking for a low cost, quick-to-install, and natural looking loose fill surface material, our SurfaceMax Engineered Wood Fiber (EWF) is a popular choice.  Engineered and designed according to the ASTM standard for impact attenuation on playground surfaces, EWF is easy to install and maintain, although it does require more routine raking and top off maintenance than some higher cost alternative materials.
Once the material has had time to settle, the top layer will "knit" into a surface that is easy to traverse and supports a number of mobility devices including crutches, walkers and wheelchairs. Made of non-toxic hard and soft woods with minimal bark, twigs and other organic material. Color will vary.
According to the Consumer Product Safety Commission, every 3 out of 4 playground injuries result from falls. Knowing this, it's easy to see how important proper fall protection is and that plenty of consideration should be given for what surfacing should be installed on your playground. American Playground Company offers a selection of six different playground surfacing options, ensuring we have the right option no matter the layout or functionality of your playground.
Continue reading for more information on each of our playground surfacing options
Engineered wood fiber
Designed and engineered per the ASTM standard
Periodic maintenance required to maintain the proper depth
Suggested to be used alongside wear mats and park timbers
Loose fill shredded rubber
Extremely durable playground surfacing option
Made from clean, shredded recycled rubber
Doesn't decompose
Easy installation
Requires only periodic maintenance
Available in 4 colors
Poured in place rubber
These two-layered unitary surfacing
Resilient, nonskid surfacing
Great for accessibility
Choose from 1 solid color or multiple colors to create a pattern or graphic
Made of recycled materials
Superior surfaces designed to fit any budget
Recycled bonded rubber
Porous and impact absorbing
Great option for highly accessible paths within a play area and external walkway
One step pour system
Great for smaller budgets
Seamless surface installed at various depths to meet specific fall heights
Recycled Rubber Tile
Durable and resilient
Recycled rubber
Available in a variety of thicknesses
Easy replacement of small areas of surfacing
Premium multicolored tiles, custom edging options and ADA accessible ramp tiles available
Synthetic artificial play turf
Has the natural resemblance of green grass
Drains quickly
Fastest growing playground surfacing option
Great for commercial playgrounds