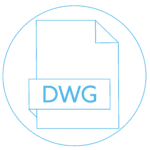 This recycled structure offers ample room for your children aged 5-12 years to explore and learn with various decks, roofs for shading, and several play panels. The slides on the unit will have children racing down again and again. Fortunately, there are quite a few ways to access the slides, the panels on the higher decks, and the straight crawl tube.
If you're looking for a commercial playground structure that is eco-friendly and promotes social and physical play skills, look no further. The R3-20229 uses decks and post that are 100 percent recycled from post-consumer plastic products and are available in three different colors: cedar, dark brown, and gray (at an upcharge). The components included on this unit such as the rock wall climber, roofing, and matrix climber are all up to your choosing when picking a color. Sizing for this recycled structure is 28 feet by 21 feet with the capacity to fit 40 children between the ages 5-12. It requires a use zone of 40 feet by 33 feet. The most recent R3-20229 install, which is pictured above, took place at Newbury Park in Florida with a natural color scheme nicely complimenting the recycled decks and posts.
American Playground Company is proud to offer a variety of playground structures for your park, school, apartment complex, or community. Regardless of the area, we have the perfect structure to meet your recreational needs. Our structures are designed for children of all ages and abilities, but we also provide play structures for specific age groups and can incorporate free standing elements to provide multiple inclusive play options. While we supply traditional playground structures, we also have many structures with activities that are adapted to new and emerging trends and capabilities. Our structures come in a wide variety of color schemes and design themes to fit the precise look you want for your recreational area. For a multi-level, fun-filled playground, we offer play structures with decks of different heights and sizes; we provide play structures without decks for a more sleek and compact play area that is just as fun! Regardless of what your recreational requirements may be, American Playground Company is equipped to take on your project—extra large to extra small, we will do it all! Many of our structures also come with the best warranties on the market. Backed by our team of certified inspectors, we are able to ensure every aspect of your playground structure and surrounding recreational area is safe and secure for anyone who wishes to play. With a focus on safety and quality, American Playground Company offers extensive and unique product lines of playground structures that will meet your requirements for space, budget, and fun!