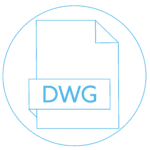 This inclusive commercial playground structure features a plethora of different pieces of equipment including an ADA transfer point with a half gate, a half push panel, zipper climber, and several different slides fit for every child.
The PS5-70150 is sure to offer a play experience promoting strategy and teamwork within children. Allow up to 115 children between the ages 5-12 years old on this equitable playground design. This commercial playground structure features a plethora of different playground components, including it's large ramps that lead to various inclusive play activity panels, zipper climber, and several different slides fit for every child. After so much exploring, the below deck bench offers a realizing alternative for those in need of a break. The USA map panel and the spelling panel complement each other and promote a learning experience for children while they are engaging with others and playing. The dimensions are 53 feet by 53 feet with a use zone of 65 feet by 65 feet. By adding necessary surfacing, you can make this environment completely accessible for children of all abilities. This structure is available in any color scheme best fit for you.
Quick Highlights:
Age Group: 5-12 Years
Capacity: 115
Structure Size: 53′ x 53′
Use Zone: 65′ x 65′
Fall Height: 5′
Est. Timber Count: 64
ADA: Yes
Product Resources:
General Product Specifications
American Playground Company is proud to offer a variety of playground structures for your park, school, apartment complex, or community. Regardless of the area, we have the perfect structure to meet your recreational needs. Our structures are designed for children of all ages and abilities, but we also provide play structures for specific age groups and can incorporate free standing elements to provide multiple inclusive play options. While we supply traditional playground structures, we also have many structures with activities that are adapted to new and emerging trends and capabilities. Our structures come in a wide variety of color schemes and design themes to fit the precise look you want for your recreational area. For a multi-level, fun-filled playground, we offer play structures with decks of different heights and sizes; we provide play structures without decks for a more sleek and compact play area that is just as fun! Regardless of what your recreational requirements may be, American Playground Company is equipped to take on your project—extra large to extra small, we will do it all! Many of our structures also come with the best warranties on the market. Backed by our team of certified inspectors, we are able to ensure every aspect of your playground structure and surrounding recreational area is safe and secure for anyone who wishes to play. With a focus on safety and quality, American Playground Company offers extensive and unique product lines of playground structures that will meet your requirements for space, budget, and fun!