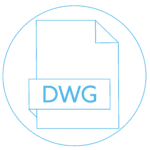 Modern and sleek, this commercial playground structure is designed for 26 children aged 5-12 years and will have children putting every muscle in their body to use. Upholding a more complex design, this structure is aimed at stimulating the mindset of its users as well as presenting an achievable challenge. As a plus, the playground is accompanied by an ADA transfer station.
Upholding a sleek and modern look, this commercial playground structure will have children using every muscle in their body. As an alternative to basic playground steps, the delta arch bridge provides children a unique climbing challenge and invites children to work together in order to navigate their way through this structure. The double chute slide and the 90-degree curve slide will surely put a smile on a child's face! Additionally, this structure comes with a sliding pole for them to move, in a unique and fun way, from the decking back down to the ground. The 22 feet by 20 feet structure has a required use zone of 34 feet by 32 feet and has a capacity to fit 38 children between the ages of 5 and 12.
Quick Highlights:
Age Group: 5-12 Years
Capacity: 38
Structure Size: 22′ x 20′
Use Zone: 34′ x 32′
Fall Height: 4′
Est. Timber Count: 27
ADA: Yes
Product Resources:
General Product Specifications
American Playground Company is proud to offer a variety of playground structures for your park, school, apartment complex, or community. Regardless of the area, we have the perfect structure to meet your recreational needs. Our structures are designed for children of all ages and abilities, but we also provide play structures for specific age groups and can incorporate free standing elements to provide multiple inclusive play options. While we supply traditional playground structures, we also have many structures with activities that are adapted to new and emerging trends and capabilities. Our structures come in a wide variety of color schemes and design themes to fit the precise look you want for your recreational area. For a multi-level, fun-filled playground, we offer play structures with decks of different heights and sizes; we provide play structures without decks for a more sleek and compact play area that is just as fun! Regardless of what your recreational requirements may be, American Playground Company is equipped to take on your project—extra large to extra small, we will do it all! Many of our structures also come with the best warranties on the market. Backed by our team of certified inspectors, we are able to ensure every aspect of your playground structure and surrounding recreational area is safe and secure for anyone who wishes to play. With a focus on safety and quality, American Playground Company offers extensive and unique product lines of playground structures that will meet your requirements for space, budget, and fun!