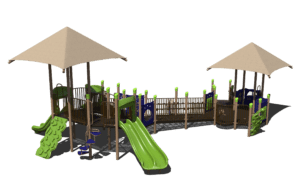 Looking for a way to make your park or playground more accessible and inclusive? The PS5-71112 playground features wide, inclusive ramps that allow children of all abilities ages 2-12 to play and explore together. With slides, interactive play panels, and climbing challenges, this playground provides fun for everyone!
Product Details:
Model Number: PS5-71112
Age Group: 2-12 years old
Capacity: 75-80
Structure Size: 43' x 33'
Use Zone: 55' x 45'
Fall Height: 7'
Estimated Timber Count: 49
ADA: Yes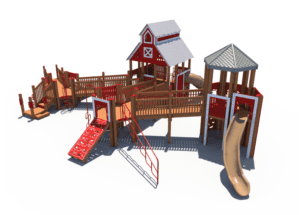 Get ready for barnyard fun with the Large Barn Recycled Playground! This playground features accessible, wide ramps as well as multiple climbers, slides, and interactive play panels for children ages 5-12. Model Number: R3FX-30074 Age Group: 5-12 years old Capacity: 140 Structure Size: 63' x 46' Use Zone: 77' x 58' Fall Height: 7' Estimated Timber Count: 67 ADA: Yes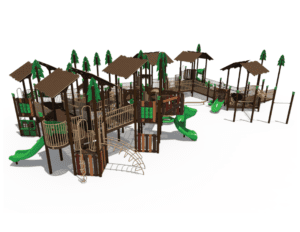 There's something for everyone in this nature-themed play structure. Featuring accessible wide ramps, talk tubes, activity panels, short slides, and climbers, this steel play structure is a great option for parks and schools. Its tree-topped posts and rustic treehouse accents create a fun, whimsical environment for children ages 5-12 to explore. Model Number: SRPFX-50115 Age Group: 5-12 Capacity: 257 Structure Size: 72' x 43' Use Zone: 84' x 55' Fall Height: 6' Estimated Timber Count: 73 ADA: Yes
---
American Playground Company proudly provides all of our services for Sioux City, Iowa; Des Moines, Iowa; Iowa City, Iowa; Grand Island, Nebraska; Lincoln, Nebraska; Omaha, Nebraska; Wichita, Kansas; Kansas City, Kansas; Rochester, Minnesota; and Sioux Falls, South Dakota.