Apply for a Matching Grant for Your Next Project
American Playground Company is proud to provide a matching grant program for non-profit and government entities in support of children's play in the communities we serve. American Playground Company is powered by American Fence Company.  We offer matching grants to assist communities in their playground development and to increase children's activity levels and play.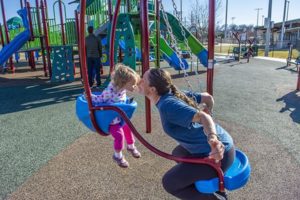 What is a matching grant?
The concept of a matching grant is for a local government or business to designate funds to go to particular project types. Groups within the community can create and submit project proposals in order to apply for the matching grant. The groups that submit proposals that are accepted will have their contribution to the project matched at a minimum of 50%. Matching grants are an effective way to improve ares while also involving community groups.
American Playground Company Business' Match
Grants from American Playground Company can range from $500 to $25,000, with American Playground Company determining the grant amount on a project by project basis. These grants are available to all non-profit and government entities in Kansas, Minnesota, North Dakota, South Dakota, Iowa and Nebraska. These entities must have 501 (c) (3) status or an IRS determination letter of the organization's status as a government entity to receive a matching grant from American Playground Company.
How to Apply
We list out the steps of the application process for our matching grants program in a concise and easy-to-follow manner, and the application is built into the site so no need to mail, fax or email your proposal. It all can be done within our online application and submitted instantly.
Below is an outline of the application process:
Project title
Brief summary
Goals and objectives
Project plan

Activities planned
Partnerships involved
Administration and staffing
Visibility and impact
Sustainability
Safety

Project budget
Project final report
CPSI certified playground inspection
[maxbutton id="43″]
Resource: escort beylikdüzü